Sanitary Disposable Covers for Headphones and Headsets
Safely Share Headphones and Headsets Among Many Different Users
---
Sanitary covers are available for headphones and headsets which stretch around the headphone earpiece to shield the person wearing the headphones from coming in contact with the foam cushion portion of the headset or headphone. The stretchable covers are made from non-woven synthetic spun-bond polypropylene, which is the same material used to make wet wipes. The material allows audio to easily pass through while providing a barrier to moisture to shield users from the germs and bacterial of other headphone and headset users. They have been frequently ordered by institutions that are actively working to maintain the cleanliness of their headsets and to contain the spread of germs that might go from one headphone user to another due to contact with the earpieces.
Sharing headphones and headsets seems to be quite harmless, however most people do not realize that the foam part of the headphone cushion is like a sponge that absorbs body moisture and allows the transfer of skin cells, biological material, germs, bacteria and a virus from one user to another. Most users do not mind that the headphones are being recycled, however they do not want whatever was left behind by previous users when they put on the headphones or headset that has been shared with who knows who.
Headphones and headsets are frequently shared among many different users in settings such as educational facilities, call centers, on-the-job training programs, museum kiosks, business presentations, trade shows, headphone sales stores, music stores, schools, libraries, workout facilities, dental offices and healthcare facilities. While it may be beneficial to provide exceptional audio with a good pair of headphones, nobody wants their hair and skin to come in contact with the same sponge foam material that was shared with many other prior users, because not only will you be exposing your skin to the same material as all the previous users, but there is also the potential that as those headphones are worn, that one of the users could have head lice that invisibly will find the same sponge foam to be a nice happy environment as well. So unfortunately, the headphones can become a handy vessel for transferring head lice from one individual pair of headphones to many subsequent headphone users.
---
Disposable Headphone Covers
Sanitary material will stretch around headphone earpiece
The large size disposable headphone covers will stretch around the outer portion of earmuff style headphones
Maintain sterile conditions between those who publicly wear the same headphones
Enables headphone wearer to hear music or an audio very clearly, protecting the headphone user while you maintain effective hygiene for your facility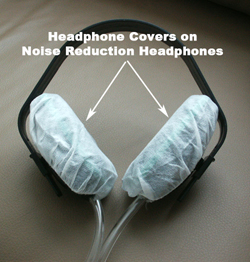 These covers are made from a synthetic type of spun cloth material that is similar to what they use to make wet wipes and surgical masks
The covers wrap around the outside edges of the headphones and cover the cushions
The type of material used will allow audio to pass through while resisting light perspiration and they provide a safe barrier to protect users from lice, bacteria, viruses, infectious diseases
Our covers have been used by the National Institutes of Health medical facilities to control the outbreak of antibiotic resistant staphylococcus "staph" infections such as MRSA
Enables patients and headphone users to share headphones without sharing hair, body oils, skin cells, bacteria and germs
Usable with all types of headphones, such as those used in aviation simulators, pilot and military training exercises, surgical procedures, hospitals, library, students, courthouse proceedings, voting booth equipment, media labs, depositions, museums, planetariums, music halls, corporate presentations, job screening programs, job training, clean rooms, educational centers, classrooms and any situation where headphones may be publicly shared between many users
Headphone covers aid in public safety by limiting the spread of lice, ticks, influenza and contagious diseases
Elastic stitching will enable the headphone covers to stretch and cover the outer portion of shared headphones where they contact the head and ear
Large size covers can be used on all types of earmuff style headphones including stereo headphones that cup the ear
Small size headphone covers work well with call center headsets and lightweight headphones that rest against the ear
The small size covers can also be used over stethoscopes, and the covers can be removed and replaced so the stethoscopes can be kept sterile
Packaged in sealed bags with 100 sterile stretch headphone covers in each bag
Comfortable material is free of any latex and does not itch or cause any added pressure against the skin
The covers maintain cleanliness of the associated headphones while limiting the spread of contagious viruses & diseases
These disposable sanitary stretch fabric covers may be easily replaced each time the headphones are used
Large size works well with the scan sound nrh-101 noise reduction headphones as shown in the picture on the left and the fabric material is inert to an mri scan
Eliminates the need for cleaning agents and disinfectant sprays which actually cause the materials to break down over time and act like a sponge to absorb unhealthy micro-organisms
Our headphone covers work well as a clean room dust cover, petri dish cover - will cover lab glass wear and beakers
Sizing Information:
Earpiece Size is 1 to 2 1/2-inches (2.5 to 6.3cm) - Order the Small Size Headphone Covers
Earpiece Size is 2 to 3 1/2-inches (5 to 9cm) - Order the Medium Size Headphone Covers
Earpiece Size is 3 to 5-inches (7.6 to 12.7cm) - Order the Large Size Headphone Covers
Earpiece Size is 4 to 7-inches (10.2 to 17.8cm) - Order the Ex-Large Headphone Covers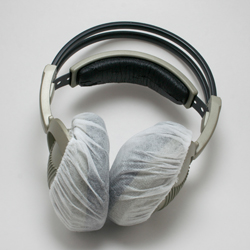 Large size disposable sanitary headphone covers:
Will stretch around the outer portion of earmuff style headphones. Typically these headphones have an earpiece that is about 5 1/2-inches in diameter and they accept the Large size headphone covers.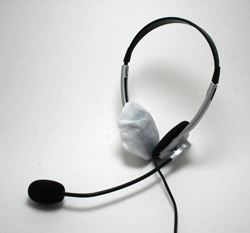 Small size disposable sanitary headphone covers:
Will stretch around the outer portion of most personal headsets the kind of headphones that rest against the ear. These earpieces usually are around 2 inches in average diameter.
The small size headphone covers come in bags of 100 and boxes that have an oval cut opening to dispense the earphones, with 1,000 small size headphone covers inside.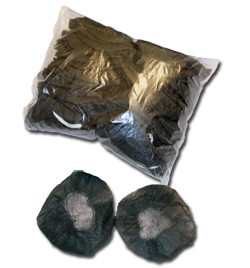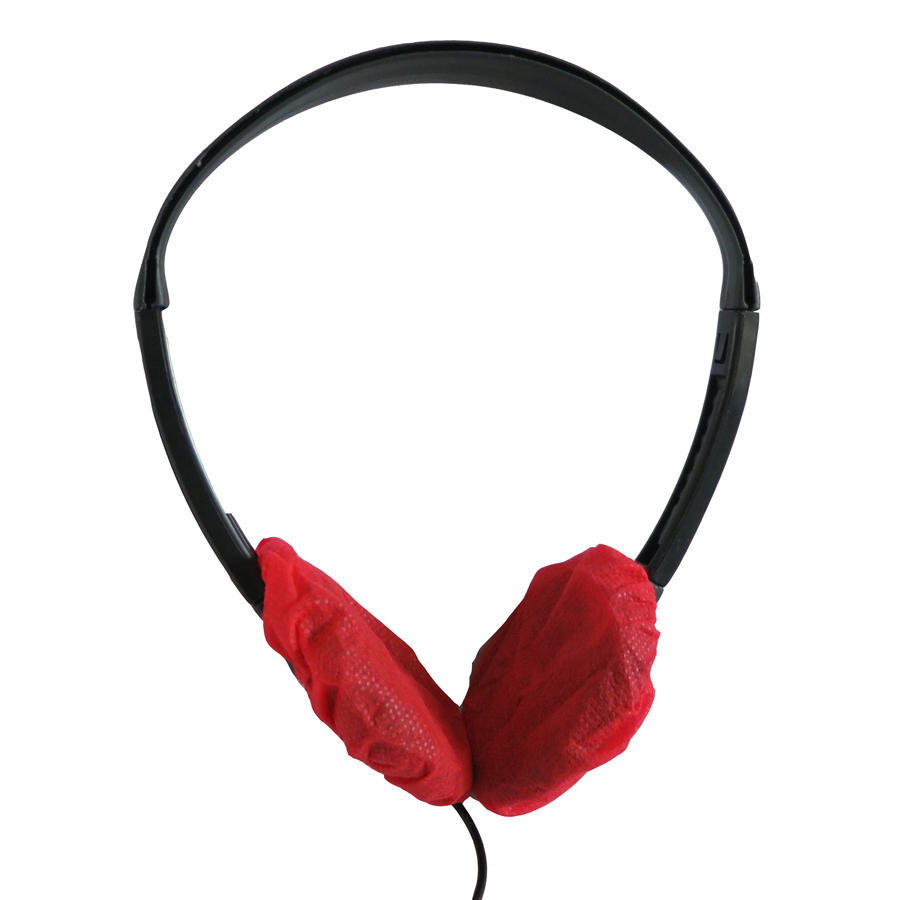 The small size headphone covers are available in White, Black or Red colors, as shown above.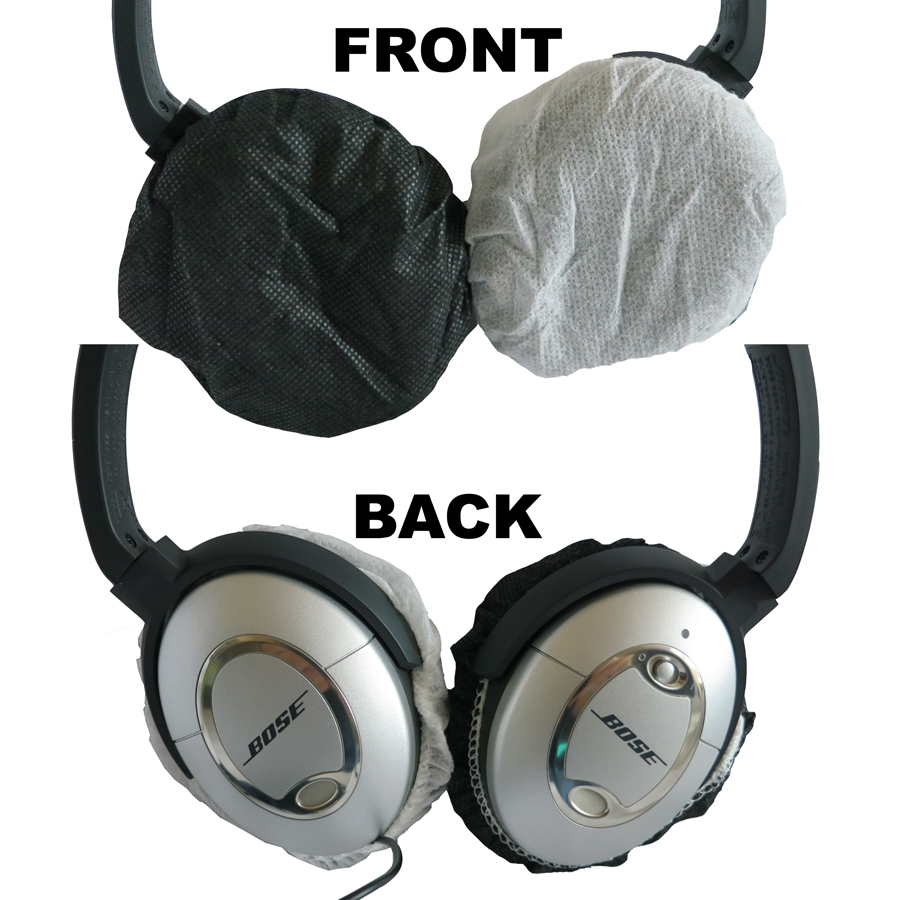 The Bose Quiet Comfort II headphones (shown above) work best with the Medium size covers. The Medium size headphone covers will fit headphone earpieces ranging from 2 to 3 1/2 inches in the average diameter.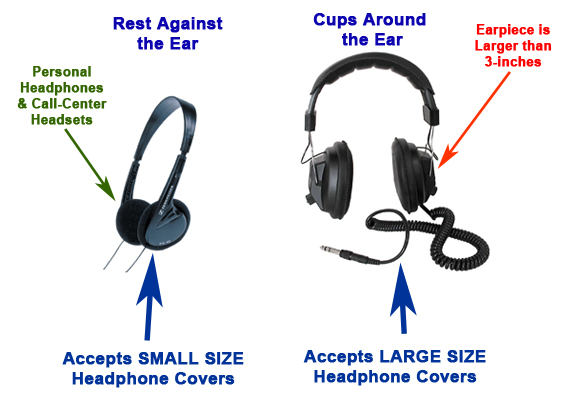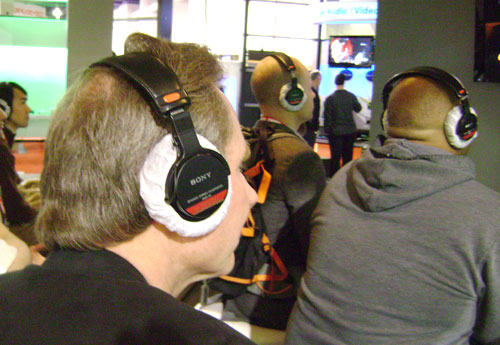 The above pictures show the Disposable Sanitary Headphone Covers in use by numerous individuals watching a video presentation at a trade show. The headphone covers enable the headphones to be repeatedly used by many different individual users as the presentation is made to many different groups that are viewing the presentation.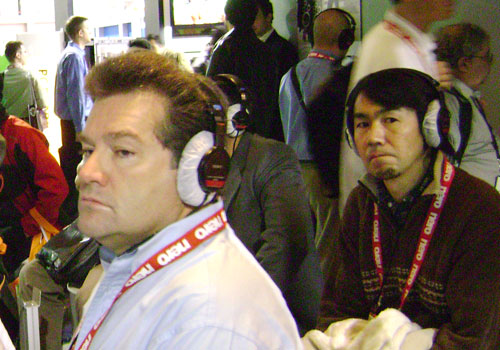 The headphone covers shown are the Large White Stretchable Headphone Covers. By placing the covers over the headphones, each person can be sure that they will not be exposed to undesirable germs or head lice from prior headphone users.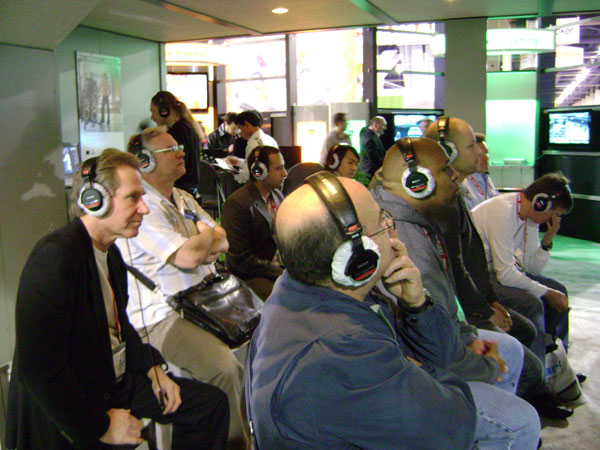 Listeners are wearing shared headphones at a trade show. The headphone covers are easily removed and replaced between the presentations so that each new group puts on a headphone with a clean cover protecting the foam cushion of the headphone.
Each user knows that they are not being exposed to undesirable germs, viruses and the biological material, hair, perfume, cologne and sweat of the prior headphone user.
All our sanitary disposable headphone covers can be viewed online at the following URL:
https://scansound.mybigcommerce.com/headphone-covers/disposable-headset-covers/