Posted by Barry Leeper on 1st Nov 2020
Sharing of Headphones and Headsets Created a Need for Disposable Covers
When we developed the first MRI Patient Stereo Sound Systems, the only headphones we offered resembled a stethoscope and they had little foam eartips that could be removed and replaced to provide a hygienic way for users to share the same MRI headphones.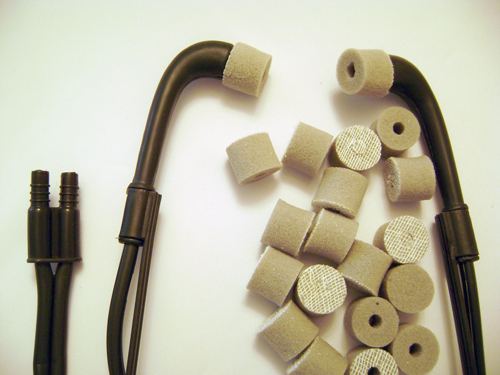 Later on, we introduced an earmuff style headphone which was very similar to the image shown below, We realized that new headphones were going to be repetitively used for MRI patients, and we would need some type of hygienic cover to protect each of the patients from having their skin come into direct contact with the earmuff style headphone earpieces.
We later began to look for ways to provide some kind of protective covers for the these new earmuff style headphones. We wanted to ensure that the covers would be disposable, and could protect the patients from germs and bacteria. We also looked at ways to clean the headphones. Although you could spray a disinfectant on the headphone, the earpiece foam inside and the leatherette cushions would eventually disintegrate and the materials foam inside might not hold up very well. We tried shoe booties and sockettes, however most were just too thin. We then opted for covers made of disposable material known as Non-Woven fabric covers that were made from spun-bond polypropylene, a synthetic material that was often used to make wet wipes and face masks. The disposable enabled sound to pass through without much of any affect on the audio. We were able to hear a very wide range of music through these disposable covers. The material, including the elastic opening was totally latex free, and that was very important, because we wanted to protect patients with skin sensitivities. Non-woven spun-bond Polypropylene had been used for years to make wet wipes, face masks and alcohol wipes for the hospital industry, so we were comfortable that they would be well suited for our headphone covers.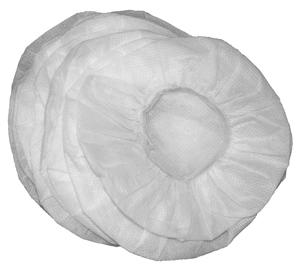 We had been selling regular Mono and Stereo headphones for many years, and many of our customers would frequently purchase replacement foam earpads. We have always listened to customers when they asked for new things, and they began to ask if we could supply them with small size covers that would fit onto the disposable headphones, so they could be recycled quickly for theater patrons. This was definitely something that was not available at any stores, so we figured it made sense to offer those on our website. It did not take long for the small size headphone covers to take off, and we were surprised by the quantities that were being sold.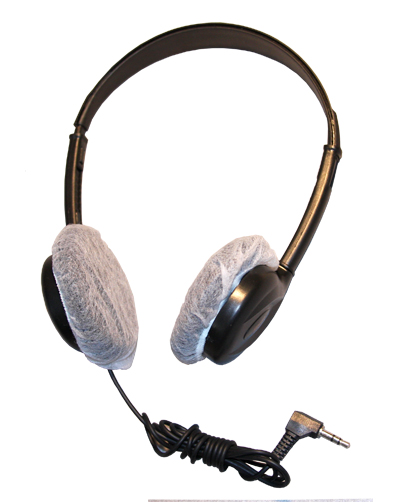 The large size headphone covers found a very good market, and we sold them in large quantities to hospitals and MRI imaging centers for their MRI headphones. Health concerns over Aids, SARS and Ebola helped drive the sales, as people began to look for ways to share expensive headphones while taking safety and hygiene into account.
Each time that there was a concern over a possible epidemic, the sales of the headphone covers rose. The customer base grew naturally and we supplied the headphone covers to many hospitals, businesses and schools on an ongoing basis.
Over the years, we found that medical facilities were looking to prevent the spread of germs, bacteria, MRSA, the Flu and the common cold. Educational facilities ordered the headphone covers mostl to help prevent the spread of lice and influenza. We sold some covers to be used by automated voting machines and occasionally for businesses that were holding promotional meetings where their customers needed to listen to sound using headphones. Group after group would file into the convention, sit down, put on headphones and listen to music and sound effects.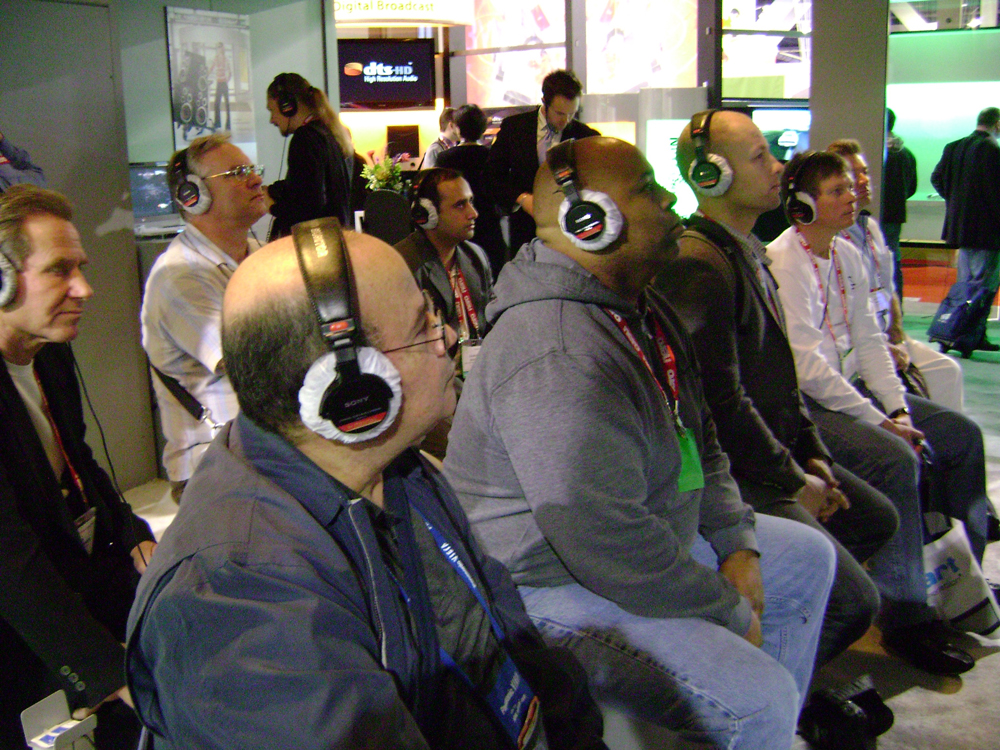 We also found that many dental offices were providing music for patients to listen to during their dental procedures, as a way of relaxing the patients and allowing them to tune out drilling sounds, and the like. Patients going in for Orthodontic procedures also found that music helped them to relax during their studies. Patient friendly Dental and Orthodontia clinics began to see how their headphones were finding that the cushions would begin to break down from the cleaning solutions, and very nice headphones were going to waste, so they began to order headphone covers as well.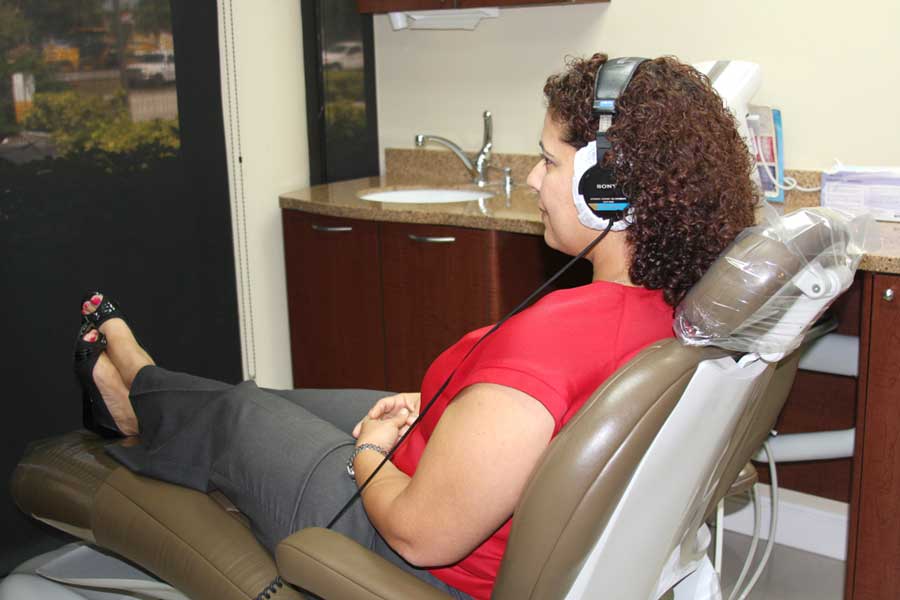 My own dentist was offering patients the use of some Sony headphones, however the cushions were in very sad shape, so I offered to refresh all their headphones and suggested they use our headphone covers. The dentist left me with some samples of toothpaste, toothbrush and dental floss, and I left them some samples of our headphone covers. It was a win/win situation. Before you knew it the market had opened dramatically to schools, job screening centers and educational training programs.
It gives me a very nice feeling to know that I have helped so many people to feel relaxed as they listen to music while they are able to wear the shared headphones. When they see that the facility has made an effort to put on a nice fresh clean cover on their headphone, the users are comforted by just knowing that the facility cares enough to protect the headphone users. During the winter months we would get lots of orders from call centers who were losing employees due to many that had to stay home due to influenza or the common cold. They often would buy covers to protect their workers who were sharing headsets that were just too costly to give one out to each of the call center employees, especially since they typically hired a lot of temporary workers. The call centers continue to buy the headphone covers steadily, and many of the workers seem to reach out to us first before their company ends up placing the orders, so it tells you a lot about who is driving the sales of the headset covers in call centers. Many school systems had lice outbreaks, and were finding that the small, nearly invisible lice were making a home in the crevices behind the foam inside of headphones. Often we would receive calls first from concerned parents, then teachers and eventually the school systems began to also order the headphone covers as they put together plans to keep the kids in the classrooms across the country.
Examples of Headphone and Headset Sharing
Schools and Educational Programs
Job Screening
Job Training Programs
Healthcare Facilities, such as Dialysis Centers
Diagnostic Imaging Centers, including MRI Scanning
Dental Offices and Orthodontia Facilities
Call Centers
Clean Rooms
Food Industry Workers
Airport Workers who Wear Headsets and Hearing Protective Earmuffs
Restaurant Inter-Communication and Drive Through Ordering
Retail Stores and Warehousing Personnel
Schools and Educational Facilities
Security Personnel
Air Traffic Control
Libraries
Distance Learning
Video Conferencing
Anyone these days who might consider sharing a headphone with other users, might be a bit leery about wearing "used" headphones; Most were not comfortable with wearing headphones that were worn previously by other users. There are the concerns of bacteria and germs just lying on the surface of the headphones that are enough to give anyone pause for concern. When you are in the hospital and put into a situation where you need to share a headphone, the first thing that might go through your mind would be: "Is that headphone clean? and "Has anyone else worn that headphone?" Anyone facing a major illnesses would certainly not want to get a medical surprise. Can you imagine going in for a minor issue then finding out that you were infected with a highly resistant form of some new contagious disease? Unfortunately, that has happened all too often in the past. Unfortunately, germs and bacteria seem to thrive in hospitals and some outbreaks are extremely hard to battle. MRSA became a focus when a particularly resistant form of staphylococcus was easily transmitted by medical personnel. Doctors and Nurses went from room to room to visit and treat patients, only to find out that they were spreading the highly contagious MRSA through indirect contact. I recall that one particularly famous hospital that is well known for prevention of infectious diseases, had an outbreak of MRSA and they ordered many of our headphone covers. learned later on that they were fighting an outbreak of MRSA. For me, it was gratifying to know that our headphone covers somehow may have helped play a role in reversing the spread of MRSA in their facility.
Scan Sound currently offers several sizes of sanitary disposable headphone covers: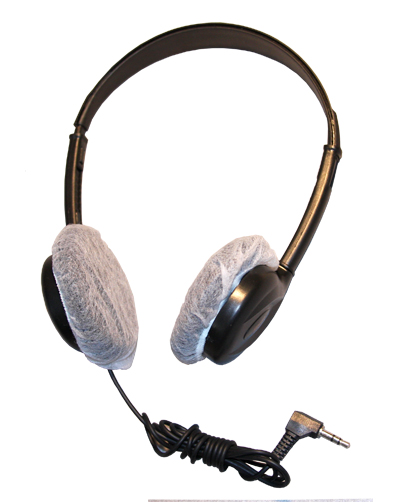 The SMALL SIZE HEADPHONE COVERS (shown above) are typically used on headphones and headsets that range up to 2 1/2 inches in diameter. They will usually fit onto the type of headphones that typically rest against the ear (as opposed to those which might go completely around the ear. The stretchable covers are very easy to put on and take off, and they are usable on either foam or leatherette style earpieces. Each bag of headphone covers contain 100 pieces (50 pairs) and they are available in Black, White or Red colors. They are also available in dispenser boxes of 1,000 pieces.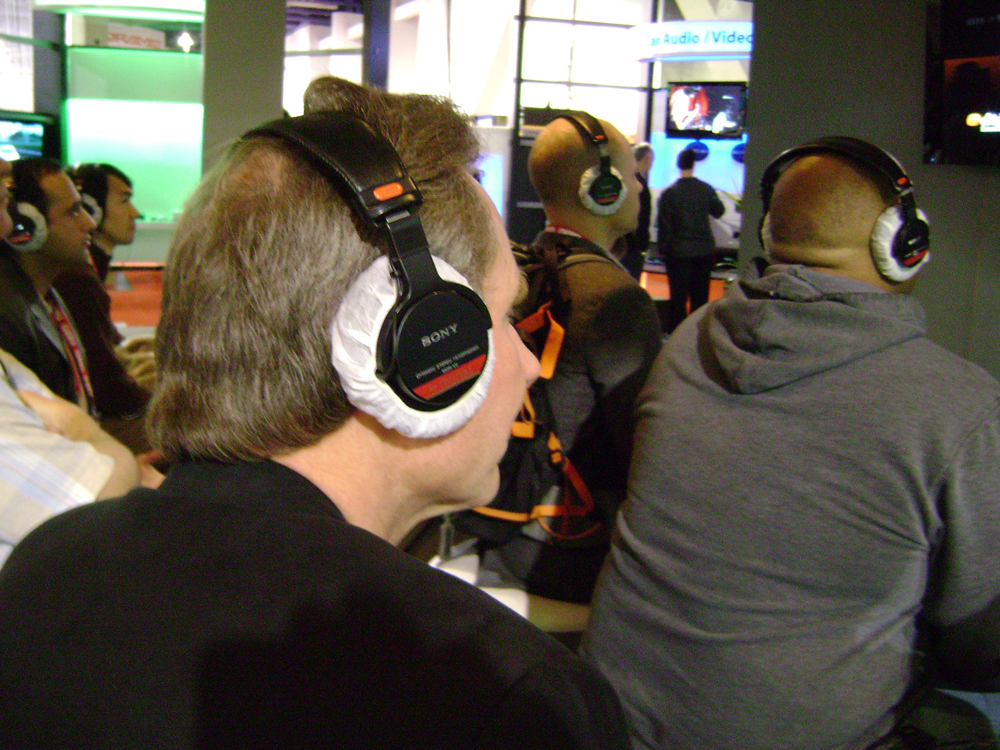 The MEDIUM SIZE HEADPHONE COVERS (shown above) are generally used on headphones and headsets that have earpieces that are between 2 inches to 3 1/2 inches in diameter. They come in bags of 100 pieces per bag and we have them available in 2 different colors; White and Black. The medium size headphone covers can also be used as microphone covers, when placed onto microphones that are between 1 inch and 1 ½ inches in diameter.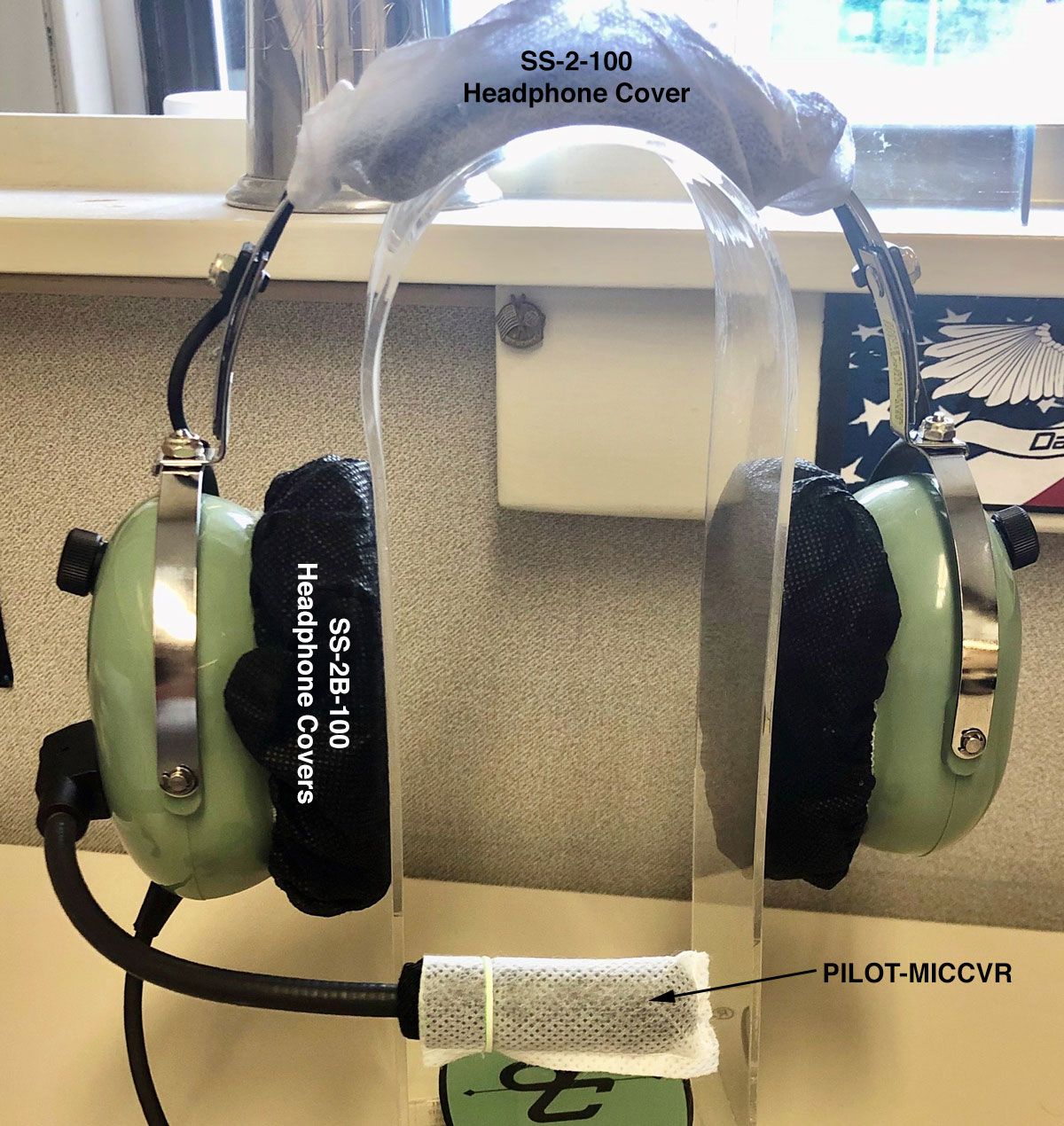 The LARGE SIZE HEADPHONE COVERS (White and Black Colors) fit onto earpieces that are between 3 to 5 inches in diameter. Most of the headphones that accept the Large size headphone covers will normally be big enough in size that they surround the ear when the earpieces rest against the head. Examples shown above show the David Clark aviation headphones with the SS-2B-100 black covers on the earpieces and an SS-2-100 white cover on the headband cushion. The Large Size Headphone Covers also fit onto our HP-66 earmuffs and NRH-101 Noise Reduction Headphones. Most large headphones usually have a substantial amount of foam inside that helps to cushion the ear and reduce outside noise. These hygienic headphone covers should eliminate the potential spread of lice from one headphone wearer to another and help keep the user's ears from directly contacting the ear and hair. The Large size headphone covers should fit most pilot headsets, including the David Clark H10 series of headsets shown above. The David Clark headsets will accept 3 covers (1 on each ear, and 1 on the headband cushion). The Large Size Headphone Covers (SKU# SS-2-100 white and SKU# SS-2B-100 black) can also fit onto large entertainment microphones that are bigger than 1 ½ inches but less than 2 5/16 inches in diameter.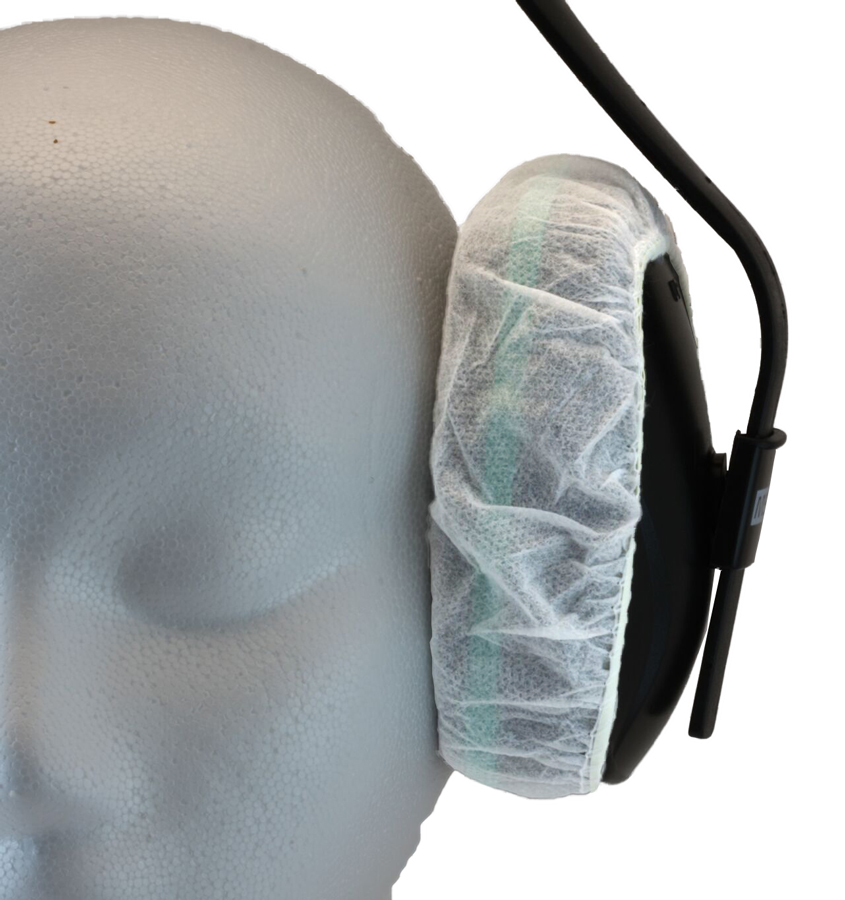 The EXTRA-LARGE SIZE HEADPHONE COVERS (shown above) are used on some very large size MRI sound system headphones . They might also be worn on broadcast headphones, very thick earmuffs and shooter's headphones. The Extra Large Size Covers are slightly thicker than the smaller size covers, however they will still allow audio to pass through without most people being able to notice any significant difference in the sound.
Many food industry workers that work in freezing conditions for long periods while wearing headphones or headsets can benefit from wearing headphone covers on their earmuffs or headsets. People working in freezing temperatures run the risk that their perspiration, frost, rain, sleet or snow might cause the earpieces to freeze to their ears. That could certainly be very harmful, especially if the user attempts to pull off the headphones away from their ear. Not only would it be painful, but it remove a thin layer of skin. The stretchable headphone covers can absorb some moisture and help prevent the headphones from sticking to their skin. For the very same reason, the ground flight personnel that stand on an airport tarmac are faced with the same challenge, so they would definitely benefit by wearing headphone covers when directing aircraft and working outside in brutally cold temperatures. Other industries that have workers working outdoors are faced with that same situation, so we also offer a cotton fabric reusable headphone cover (shown below). The FHCB fabric headphone covers (black) can be thrown into a washing machine and thoroughly cleaned before they are reused again.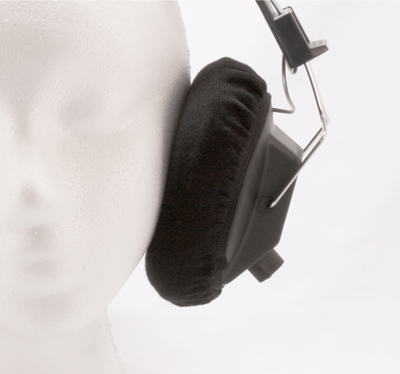 Sharing of headphones in classrooms, libraries, computer labs, job screening facilities and other such facilities can lead to the potential spread of germs, head lice and bacteria left on the surfaces of shared headphones and headsets. Each company considering ordering headphone covers would need to assess their own risks, and place an appropriate order based on their needs for protecting staff and workers. Keep in mind that the FDA does evaluate the potential for the safety or efficacy of headphone covers. Therefore it is up to each individual to make their own decision based on the risks and benefits of using coverings to help to protect users of the the headphone covers and microphone covers. It is important to take appropriate steps to minimize your own associated health risks. Scan Sound does not test the headphone covers for their effectiveness. We can relate that our disposable covers have been frequently ordered repeatedly by healthcare professionals at major hospitals, including the National Institutes of Health.
Our disposable covers were in extremely high demand during the initial wave of the Coronavirus. They were selling so fast that we ran out of what was expected to last for two years. It took a lot of effort at great expense to procure additional covers during times when the factories were not allowing the non-woven polypropylene materials to be used for anything but facemasks and hospital gowns. Although most International transportation had ground to a halt during the first wave of the pandemic, we arranged for additional disposable covers to be manufactured and flown to the United States. Although the procurement costs doubled, we kept our prices steady and only made minor pricing changes to resellers.
We learned that one of our customers, a major European airline company, that was desperate for the covers at a time when the warehouse was running out, and more covers were on the way. The flight crews were refusing to fly without our disposable covers, for fear that they would catch the Covid-19 Coronavirus. Thankfully, we were successful in supplying the covers that they needed and they arrived just in the nick of time before the airline employees grounded all their flights.
Sizing Information:
Disposable Microphone Covers
We began producing custom made disposable microphone covers in 2018. They were designed primarily to provide a protective cover for headset microphones. We made three different sizes.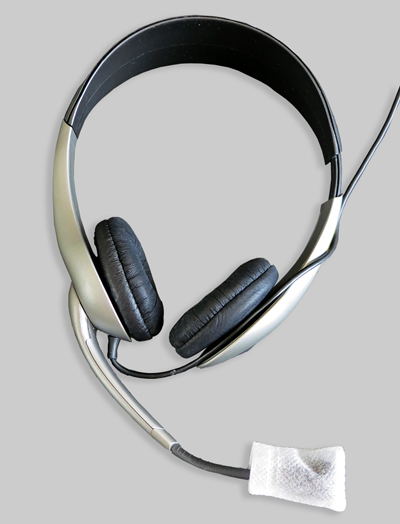 Small Microphone Covers (SKU number MICCVR) - These were made to fit onto very small headset microphones, such as the headsets commonly used by most call centers. The small size microphone covers were so small that we were unable to have an elastic opening sewn into those microphone covers. Instead of wrapping around the microphone, they fit like a small sleeve.
Medium Size Microphone Covers (SKU number MEDMICCVR). We also came out with Medium Size Microphone Covers and that were made to easily fit over microphone windscreens on headsets. Due to the amount of material that had to be cut to make the Medium size cover, they had to be priced significantly higher than the small size covers. We later arranged for another cover to be made that was slightly smaller in size and it was a bit more economical in terms of the fabric needed. We ended up calling that the Large Size Microphone Covers, even though they were slightly smaller in size than our Large Size Microphone Covers.
The MEDMICCVR Medium Size microphone covers were DISCONTINUED. When they were originally made, they were supposed to be large size covers. Apparently a mistake was made and rather than throw out those covers they were sold as the MEDMICCVR. After we ran out of stock of the MEDMICCVR, they were discontinued.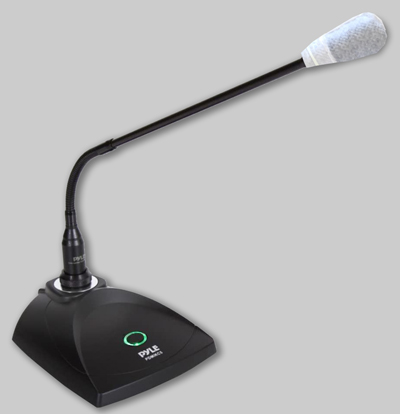 Large Size Microphone Covers (SKU number LGMICCVR) was made with a small O-Ring that would fit around the microphone to help hold the cover onto the microphone. That was because the sleeve size was more like a small tube and we felt that the O-Ring (which was more like a small rubber band) would be better at holding the tube type of cover in place on the microphone. The O-Ring was quite popular, so we ended up having all the microphone covers made to include a rubber O-Ring.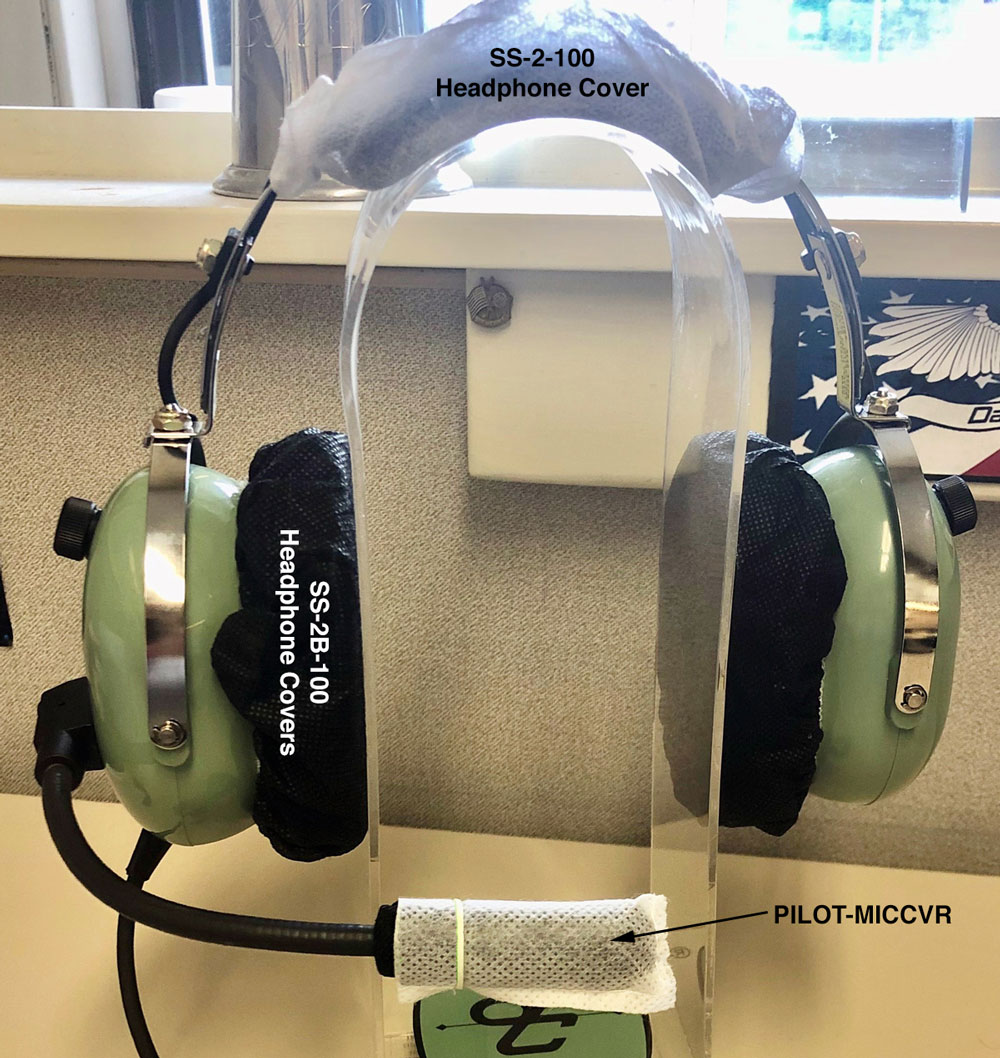 Pilot Microphone Covers (SKU PILOT-MICCVR) - We added the Pilot Microphone Covers at the end of October 2020. The David Clark H10 series of headsets all have the same size microphone foam windscreens. We made these microphone covers to fit over the foam windscreen that is most popular among the aviation headsets. The microphone slides over the foam windscreen and a supplied rubber O-Ring will go on over the microphone covers to hold them in place. The rubber O-ring ensures that the microphone covers stays put in windy conditions and the use is optional.
Microphone Cover Sizing Information:
You will notice on the sizing list above, that we show that the SS-4-100 (white) and SS-4B-100 (black) can be used on Karaoke Microphones and Entertainment Microphones.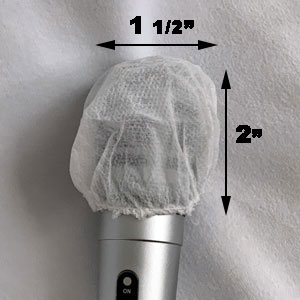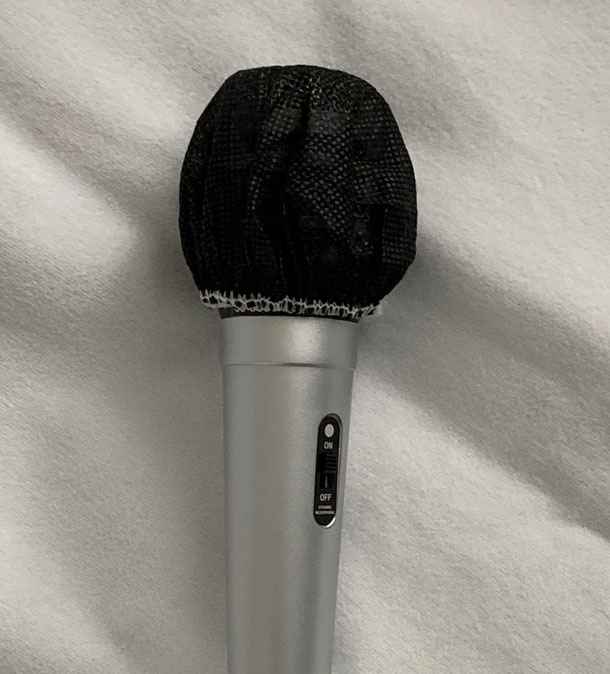 Although they are listed and sold as "Headphone Covers" they will actually work quite well as microphone covers for microphones that are bigger than desktop microphones. They are also larger than most gooseneck or podium microphones. If the Microphone Diameter is somewhere between 1 ¼ and 1 ½ inch in diameter, then you will find that the SS-4-100 Medium Size Headphone Covers will be a good fit for your entertainment microphones as disposable microphone covers.
We discontinued the MEDMICCVR Medium Size microphone covers, because they were so close in size to the LARGE size Microphone Covers and it was causing confusion. It often was hard to explain why the Medium size covers were larger than the Large size microphone covers. It was also hard to tell the MEDMICCVR from the LGMICCVR when looking at the products side by side.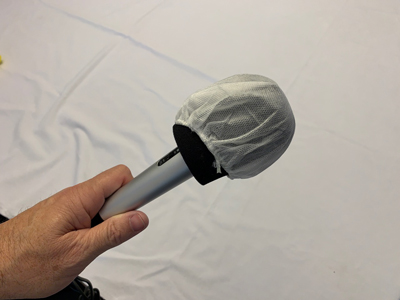 Moving along that same theme of using Headphone Covers for larger sizes of microphones, we would recommend that the SS-2-100 (white) and SS-2B-100 Large Size Headphone Covers be used as a microphone cover for headphones that are bigger than 1 ½ inches but less than 2 5/16 inches in diameter.